GoldSeek.com Radio
Gold Nugget Interview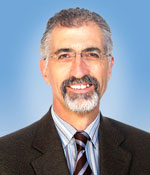 Bradford Cooke, M.Sc., P.Geo.
Endeavour Silver Corp: Chairman & CEO
- Professional geologist with 34 years experience in the mining industry, specializing in the financing, acquisition, exploration and development of mineral deposits.
- B.Sc. Geology degree (Honours), Queens University, Kingston ON, 1976
- M.Sc. Geology degree, University of British Columbia, Vancouver BC, 1984.
- From 1976 to 1982, worked as project geologist managing mineral exploration programs for uranium, base metals and precious metals across Canada with Noranda Mines, Shell Minerals and Chevron Minerals.
- Between 1983 and 1987, owned and operated Cooke Geological Consultants Ltd., discovering several high grade gold vein deposits for clients in British Columbia.
- In 1988, Mr. Cooke launched Canarc Resource Corp., a junior gold exploration and mining company focused on exploring and developing prospective gold properties throughout North, Central and South America. Canarc successfully delineated a 1 million oz gold resource at its core asset, the New Polaris project in BC. and is currently focused on developing New Polaris into western Canada's next high grade gold mine.
- In 2003, Brad formed Endeavour Silver Corp. for the purpose of acquiring advanced high-grade silver-gold projects in Mexico. Within six months of acquiring the Guanacevi Mines project in Durango, Endeavour discovered and developed into production the new high-grade Porvenir silver mine. Today, Endeavour is one of the fastest growing primary producers of silver worldwide.
- Has successfully raised over CA$250 million in equity and joint venture financings for resource projects since 1988.
- Involved in several grass roots gold discoveries over the past 25 years.
- Published several geological/geochemical papers in leading technical journals.
- Member in good standing of the Association of Professional Engineers and Geoscientists of British Columbia, The Canadian Institute of Mining and Metallurgy, The Prospectors and Developers Association of Canada, the the Association of Mineral Exploration in BC, and a Fellow of the Geological Association of Canada.
| | | | |
| --- | --- | --- | --- |
| Symbol | Price | Change $ | Change % |
| (US) EXK | $ | $ | NAN % |
| | | |
| --- | --- | --- |
| Day Range | Volume | Time (EST) |
| $ - | 0 | |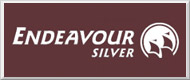 .
Disclaimer & Additional Disclosure: The owner, editor, writer and publisher and their associates are not responsible for errors or omissions. The host of this interview is not a registered financial advisor. The host of this interview has received a small compensation fee for research, publishing, distribution along with the marketing services provided on www.goldseek.com. Readers should not view this material as offering investment related advice. The host of this interview has taken precautions to ensure accuracy of information provided. Information collected and presented are from what is perceived as reliable sources, but since the information source(s) are beyond our control, no representation or guarantee is made that it is complete or accurate. The reader accepts information on the condition that errors or omissions shall not be made the basis for any claim, demand or cause for action. Past results are not necessarily indicative of future results. Any statements non-factual in nature constitute only current opinions, which are subject to change. The information presented in this interview are not a specific buy or sell recommendation and is presented solely for informational purposes only. The author/publisher may or may not have a position in the securities and/or options relating thereto, & may make purchases and/or sales of these securities relating thereto from time to time in the open market.
Nothing contained herein constitutes a representation by the publisher, nor a solicitation for the purchase or sale of securities & therefore information, nor opinions expressed, shall be construed as a solicitation to buy or sell any stock, futures or options contract mentioned herein. Investors are advised to obtain the advice of a qualified financial & investment advisor before entering any financial transaction.
GoldSeek.com is a leader in precious metals information, established in 1995 and ranked as one of the most visited gold resource website in the world. More information can be found at www.GoldSeek.com and the host of this interview may be contacted via: http://www.goldseek.com/contact.php
.