Bill Murphy, GATA Chairman
Murphy grew up in Glen Ridge, N.J., and graduated from the School of Hotel Administration at Cornell University in 1968. In his senior year he broke all the Ivy League single-year pass-receving records. He then became a starting wide receiver for the Boston Patriots of the American Football League. He went on to work for various Wall Street brokerage firms and specialized in commodity futures. He began as a Merrill Lynch trainee and went on to Shearson Hayden Stone and Drexel Burnham. From there he became affiliated with introducing brokers and eventually started his own brokerage on 5th Avenue in New York. He now operates an Internet site for financial commentary, www.lemetropolecafe.com.
Robert Ian:
How to Identify, Master & Conquer Change-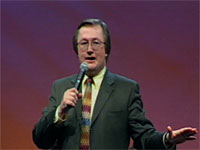 Robert Ian has interviewed over 1000 CEOs, business executives and government leaders. His research led to the publication of How to Identify, Master and Conquer Change™. This breakthrough book is being used globally by some of America's leading corporations to help their managers, salespeople and employees uncover the hidden opportunities of rapid change. Robert has appeared on ABC, CBS, NBC and the FOX television networks. He has delivered over 2000 shows, speeches and seminars worldwide for clients ranging from Amoco to Zenith. Legendary Head Football Coach Lou Holtz calls Robert "a first-class act". People Magazine calls him "amazing". His presentations never fail to challenge and entertain.