Alpha Stocks / BITCOIN / Cryptocurrency Newsletter
Subscribers Login: HERE
UPDATE - June 2017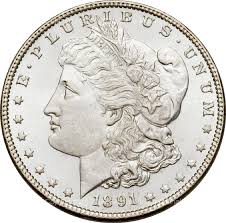 BitSilverICO - Cryptocurrency Proposal
The ICO space is filling up that's why we are seeking funding / expertise to launch BitSilverICO. One source suggests that 10% of the $5 FOREX currency market or half a trillion dollars will go to the digital space sending Bitcoin first to $10,000 then to $100,000, which may seem extreme, but even Jim Cramer has called for up to $1,000,000 as firms seek to pay off ransom ware. Even President Vladimir Putin is meeting with the Ethereum founder to discuss a Russian digital currency. Goldseek Radio recognizes the opportunity to differentiate among the crypto peers, via sound money backing. In similar fashion, we utilize Ethereum tokens to offer the end user the unique characteristic of coinage 90% silver dimes - so the initial 10,000 tokens are redeemable. In addition,
Ethereum tokens facilitate money supply expansion, so as demand increases, low cost silver is accumulated and coinage increases to the 21 million total.

By maintaining a limited money supply that is also backed by precious metals, BitSilverICO will have monetary soundness in tandem with relative anonymity of a digital currency.

Early investors will be allocated the top tranche of BitSilverICO Tokens for the proposed ICO. We are working 3 different sites that help underwrite ICOs.

There are only 10,000 tokens offered initially with Ethereum voting writes allowing up to 21 million with a majority vote.

All Alpha Stocks Newsletter Annual Subscriptions include a reservation of 100 ICO tokens.

Each $100 investment is issued 100 tokens that can be converted, 10 at a time into a silver dime after the ICO launch date. Send questions to gsr@hughes.net
Be sure to secure your position as an early supporter and secure at least 100 tokens per $100 here: https://www.paypal.me/GoldseekRadio
or contact Chris gsr@hughes.net
*Disclaimer: The BitSilverICO is merely a concept Ethereum based token - any investment is 100% at risk of loss - there is no guarantee of the return of funds - the market alone determines the exchange rate of the proposed BitSilverICO - invest entirely at your own risk - Goldseek and Goldseek Radio and related employees are in no way legaly liable for the BitSilverICO.
**ICO terms are subject to change without notice.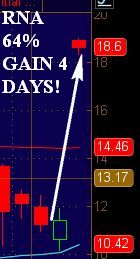 TIRED OF WASTING TIME WITH STOCK PICKING SERVICES? Alpha Stock / Bitcoin Newsletter subscribers continue to benefit from the #1 profit producing stock rating service. The Alpha Stock newsletter continues to trounce the stock indexes with HIGH ALPHA candidates. Last Tuesday's candidate RNA exploded on Monday for a 64% Gain in 4 Trading Days!
(11|17|14) - Tuesday's Alpha Candidates: RNA -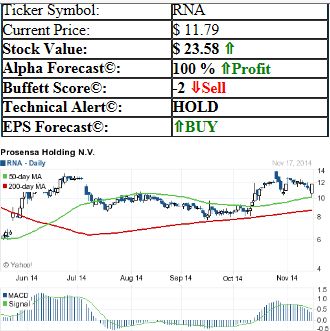 Today's candidate is deemed, SPECULATIVE due to the questionable fundamentals / zero dividend yield. Nevertheless, the pharma. has major medicines in the pipeline with high demand and positive test results. Plus this is a top rated, Zack's stock pick. Prosensa Holding N.V., a biotechnology company, engages in the discovery and development of ribonucleic acid-modulating therapeutics for the treatment of genetic disorders. The MEGA beta (Β = 3.86) suggests this is a high alpha stock . Several large institutions hold company shares, so you know we aren't going skinny dipping alone in piranha filled waters, including: Tocqueville Opportunity Fund.
STILL NOT CONVINCED? Here's 20 more reasons to sign up!
(11|06|14) - UPDATE: 20 Alpha Stock Rockets! This week's candidates TTM AND DFS are soaring! To say that the Alpha List is on fire is the understatement of the year! Virtually every candidate is showing a profit in less than 2 weeks!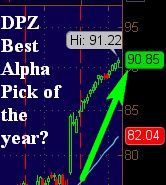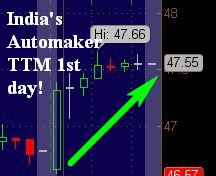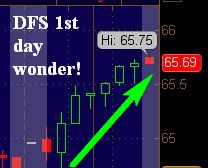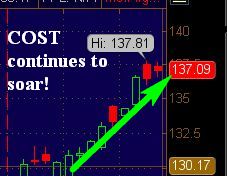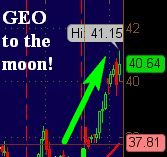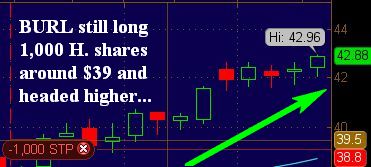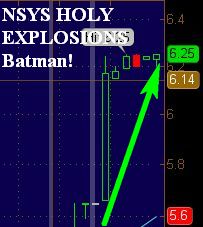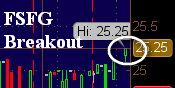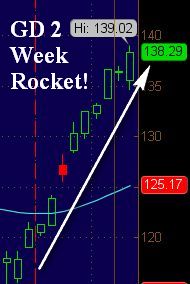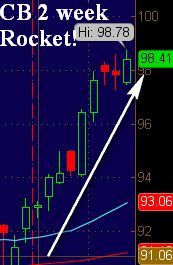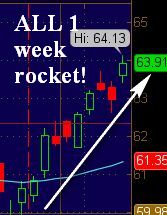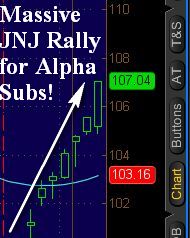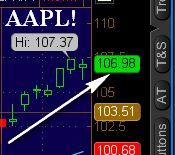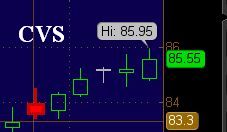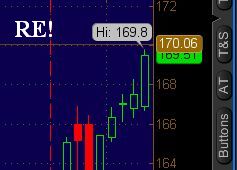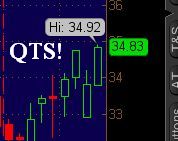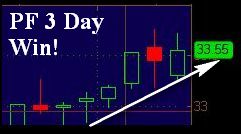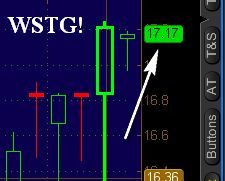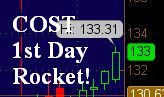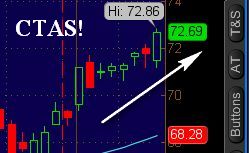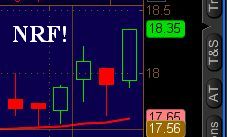 WHY EVERY INVESTOR MUST HAVE A SUBSCRIPTION TO THIS NEWSLETTER.
As a radio personality, author and economist, I receive a regular stream of questions from concerned investors regarding their portfolios. One investors was worried about her three stocks: DUK, VZ and SO. I showed her how to simply type the ticker symbols into the proprietary and fully-automated ALPHA Stock Analyzer, which uses technical, fundamental and mathematical algorithms to provide instantaneous signals on ALL US stock. The three stocks she held rated poorly while my recommendation, the last in the list, was listed as a BUY: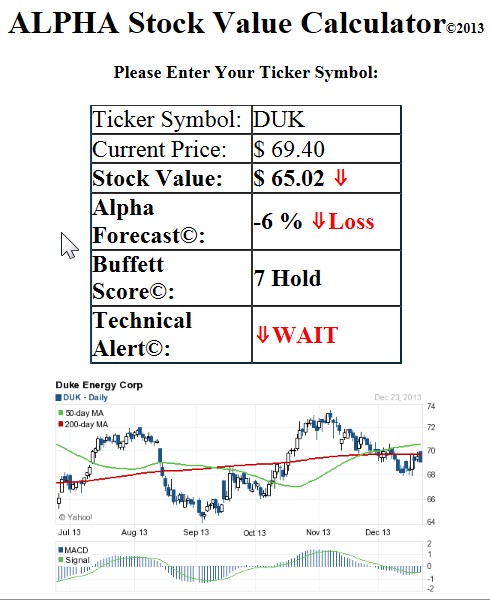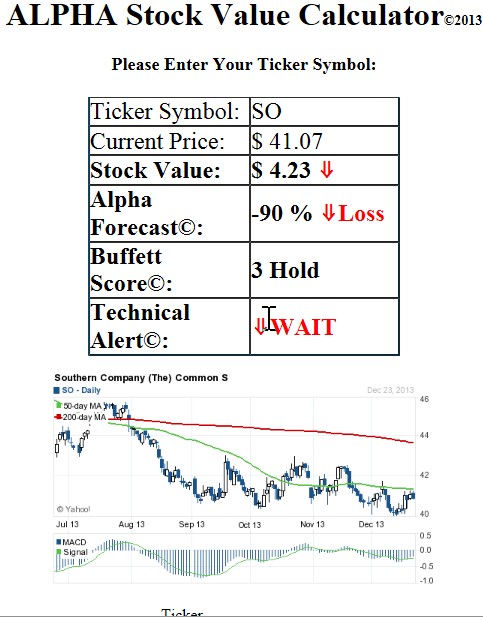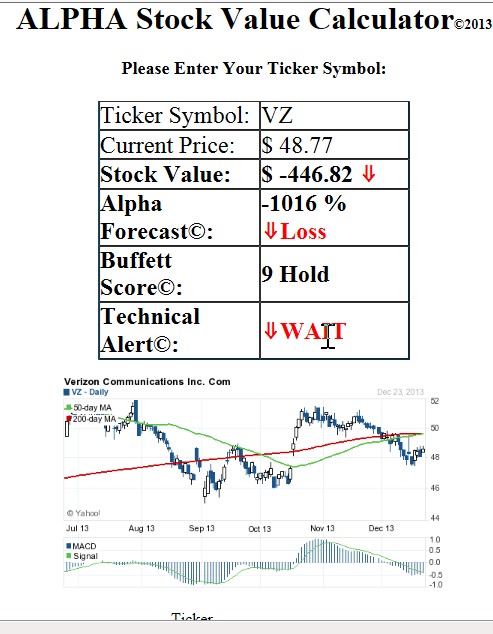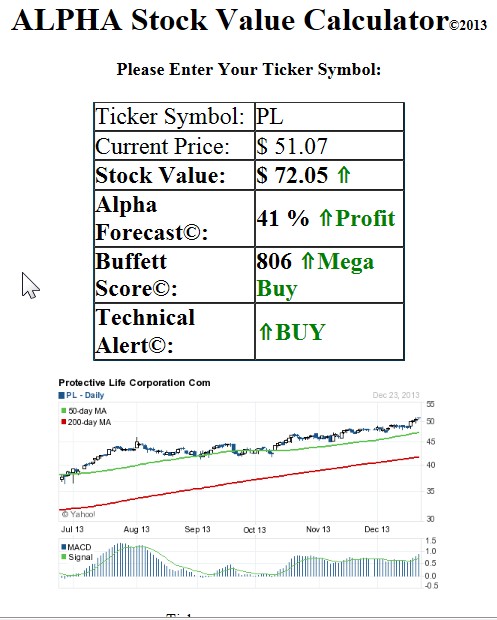 PLEASE NOTE WE ARE ONLY OFFERING THIS TO THE FIRST 500 SUBSCRIBERS: Only $29.95 per month / $147 for a full year, $499 for 5 years and $997 for a lifetime subscription!
March 4th, 2011 This Week's Results:
DESPITE THE MARKET SELL-OFF THE XLIST STOCKS ALL RECORDED A PROFIT PLUS A 10% PORTFOLIO YIELD!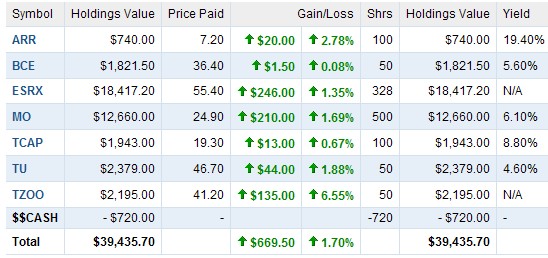 PLEASE NOTE WE ARE ONLY OFFERING THIS TO THE FIRST 500 SUBSCRIBERS: Only $29.95 per month / $147 for a full year, $499 for 5 years and $997 for a lifetime subscription!
You have probably tried free and paid stock promotion services with limited success. We all have. That's why I created the X-ploding stocks list. It is comprised of extremely HIGH ALPHA candidates with incredible prospects. The list is compiled using a proprietary algorithm that scans through over 5000 stock candidates each week. I have been trading the picks on this list for several months with remarkable success. The list is updated each Sunday night only when the long term trend and the near term momentum of the underlying stock markets is deemed to be favorable. Although each stock has the potential for stellar gains, investors are advised to apply a fraction of their total portfolio, less than 2% and only use RISK CAPITAL due to the high volatility associated with such investments.
UPDATE: Annual subscribers and Lifetime subscribers will receive a free eBook that sells for over $3,000 online and used copies can only be purchased for $700! Margin of Safety: Risk-Averse Value Investing Strategies for the Thoughtful Investor. According to insiders, this is the most important book ever written on investing.
Disclaimer: Information provided must not be construed as a recommendation to buy or sell any security or financial instrument, or to participate in any particular trading or investment strategy. The author / editor of this web site has not been paid by any company or service to promote the stock picks. All stocks are chosen entirely due to technical / fundamental characteristics. Any action taken as a result of information, analysis, or advertisement is ultimately your responsibility. The host and author is not a paid adviser. Investing in high alpha stocks involves substantial risk. Past performance is no guarantee of future returns. Consult your investment adviser before making any investment decisions. Investors are advised to apply only a fraction of their total portfolio, less than 2% to the total of all picks. Only RISK CAPITAL should be used due to the high volatility associated with such investments. None of the stock information, data and company information presented herein constitutes a recommendation or a solicitation of any offer to buy or sell any securities. Information presented is general information that does not take into account your individual circumstances, financial situation, or needs, nor does it present a personalized recommendation to you. Individual stocks presented may not be ideal to your investing objectives. Although information has been obtained from and is based upon sources believed to be reliable, we do not guarantee its accuracy and the information may be incomplete or condensed. All opinions and estimates constitute judgments contingent upon the date of the report and are subject to change without notice. This report is for informational purposes only and is not intended as an offer or solicitation for the purchase or sale of a investment security. Past performance is no indication of future results.